What Do The World's Top Brand Logos Have In Common?
Recently, Nielsen Research released their list of the top 100 brands of the world. The list compiles the world's top money making companies based on their brand value. The list itself is quite interesting but equally intriguing are the similarities the logo designs of these top brands share.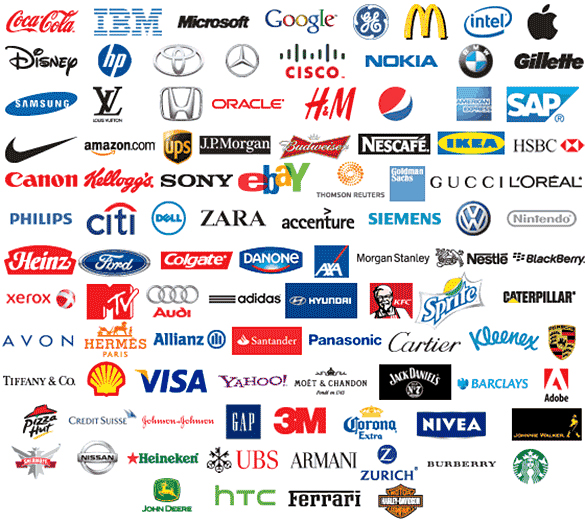 Analyzing these brands from a logo design point of view, here is what was determined…….
Color usage amongst the logo designs:
33% of the top brand's logos use the color blue
29% of the top brand's logos use the color red
28% of the top brand's logos use black or grayscale colors
13% of the top brand's logos use yellow or gold colors
5% of the top brand's logos use more than two colors
95% of the top brand's logos use one or two colors
Other Similarities these logo designs share:
41% of the logos use text only (stylized type)
9% of the logos don't feature the company name at all
93% of the logos are simple enough to be viewable in smaller sizes
3% of the logos feature people in their designs
67% of the logos have a more horizontal aspect ratio
13% of the logos use the brand's initials in their design
So what can be made from these logo stats?
In regards to the color choices, it's not too surprising to see that the colors red and blue were used in the majority of the logos. Blue is a commonly used business color because it's been shown to convey trust and professionalism. Blue is also considered to be the safest global color. Red is often associated with intensity, passion and strength…and the color red has the benefit of being one of the more eye-catching colors.
The fact that about 93% of the logo designs are relatively simple in form, is not a result of coincidence. Simple logos are unquestionably more versatile than their more intricate and detailed counterparts. While less simple logos may have their place (web only designs for example), most brands will benefit from having a relatively simple logo.
---
Feel free to give us a call to discuss your needs.